For expectant and new mothers, we offer targeted treatments that address the specific needs of the skin and body during pregnancy and breastfeeding.
In this way, we support you in feeling comfortable during pregnancy and in harmony with your body change. We will be happy to advise you on products to treat stretch marks, tighten the tissue or particularly moisturizing care products.
If you can no longer lie on your stomach, we recommend individual facial treatments or full body massages on our unique Wavebalance® Waterbed, where you can enjoy weightlessness.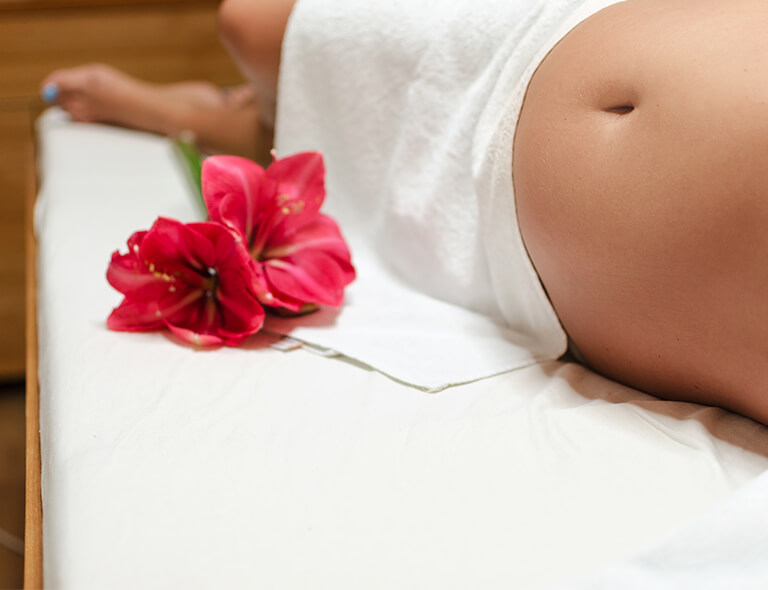 Pampering package for the ninth month
135 MIN | 180 €(YOU SAVE 20 €)
Five flower facial (50 MIN), Yin full body massage on Wavebalance® waterbed (45 MIN) and Brazilian Hollywood Waxing.
For pregnant woman and young mothers
6×45 MIN | 348 €6×60 MIN | 486 €
Soothing, relaxing massages for the back muscles, which are particularly stressed during pregnancy, in 6 sessions.
For young mothers
THE PRICE IS DETERMINED INDIVIDUALLY
Treatment of stretch marks using crystal microdermabrasion. Best results with early treatment, i.e., in the first 3 months after birth (pink-colored stretch marks).
For young mothers
Postnatal pelvic floor regression with biostimulation. A "must" after each birth, so that no incontinence problems occur later. In combination with sport, the treatment is optimized. For a significant improvement, at least 15 sessions are necessary.
Regular Price €450 (you save €60)
YIN FULL BODY MASSAGE on the Wavebalance® Water Lounger
25/50/90/110 Min | 45/90/135/160 €
Die einzigartige Erfahrung harmonisch-fließender Berührungskunst: Ihr gesamter Körper wird im Rhythmus der Wellen gelockert und mit warmem, duftendem Bio-Öl am ganzen Körper massiert. Dabei können sich selbst tiefste Verspannungen lösen und geben der Entspannung Platz.
Preventive Lymphdrainage
Gentle, anti-inflammatory and effective. This is a manual, preventive lymphatic drainage to support the natural cleansing process of our body. This is a full-body application that promotes relaxation and decongestion of the body.
We are also happy to advise you on products for the treatment of stretch marks, for tightening the tissue or recommend particularly moisturizing care products – for all the needs of pregnant women and mothers.
Children (6-14 years)
Children have a growing need, on the one hand, to take proper care of their skin and, on the other hand, to counteract the increasingly sedentary society by building up their muscles in time and, at the same time, to relieve their muscles of tension caused by carrying the school bag alone.
Connoisseur facial 25 MIN / 36€
Facial cleansing, nourishing mask, facial massage, final care with lip balm.
The peace of princes and princesses 30 MIN / 45€
Soothing neck-back massage, including arm and leg massage.
Gentle dreams 25 MIN / 39€
Head, neck and shoulder Massage.
Among other products we carry